Wine is one of 31 Rare Resources in the game and, if present on a map, available from the beginning. It appears as a small vineyard with green vines and several stakes (so called 'trellis'). Like all rare resources on land, Wine can be gathered by sending a Merchant from the Market to the resource location. Wine provides the following benefits to the nation:
main article
. Also note, that Knowledge is not gathered before the
Classical Age
, with one exception: The
Greeks
may gather Knowledge from the beginning, making an early exploitation of this resource more useful.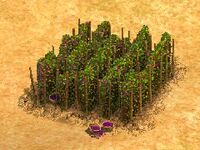 The cost reduction affects all unit upgrades at the
Barracks
,
Stable
,
Siege Factory
,
Dock
,
Airbase
and
Missile Silo
, but it has no effect on the upgrade cost for Generals/Spies at the
Fort
. It is also cumulative with cost reduction bonuses granted from resources like
Salt
,
Horses
, or
Sulphur
.
Ad blocker interference detected!
Wikia is a free-to-use site that makes money from advertising. We have a modified experience for viewers using ad blockers

Wikia is not accessible if you've made further modifications. Remove the custom ad blocker rule(s) and the page will load as expected.