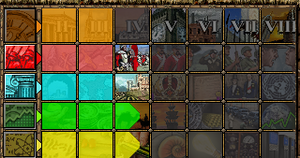 The Library technologies, also known collectively as the "tech tree", are the possible sequences of upgrades a player can take by means of research, and are the most important technologies for a game's progress. Players only have a few options for technologies to research at the beginning, and each technology that a player researches will open up further research options.
A player who is engaged in research activities is said to be "teching up," "going up the tech tree," or "moving up the tech tree." Analysis of a tech tree can lead players to memorize and use specific build orders.
Types of Technology
Edit
In Rise of Nations, the Library's technology tree is divided into four different disciplines: Military, Civic, Commerce and Science. Each discipline also has seven different levels of research within itself, bringing the total number of technologies to 28. In addition, there are eight different ages in Rise of Nations. In order to advance to the next age, players must not only meet the required amount of resources needed, but also the required amount of technologies researched.
This distribution of technology across four different facets allows for more balanced gameplay. However, players may choose to upgrade all levels of a particular discipline, or only a few; depending on the strategy used. In Rise of Nations, it is best to not focus on one or two disciplines, but create a balance with a trend towards one of the four disciplines. Keep in mind that the further Science is upgraded, the cheaper and quicker other technologies will be to research.
Individual Technologies
Edit
Upon researching specific levels within the four main disciplines, players are granted access to new units, buildings and individual upgrades. For example, after reaching the Classical Age, players can research a technology at the barracks which upgrades their Bowmen to Archers. Players must not only advance in age, but research one of the 28 levels within the four disciplines before individual upgrades even become available. Also, specific buildings must be build before certain upgrades can be researched.
Technology Levels
Edit
Focuses on expanding national borders and city influence.

Name
Cost

City State

: 120

Empire

: 160

Feudalism

: 160




: 160

Divine Right

: 300




: 300

Constitution

: 500




: 500

Great Power
: 1,000
: 800

International Law
: 1,500
: 1,500

Military Edit

Focuses on the production and upgrading of military units.

Name
Cost

The Art of War

: 100

Mercenaries

Standing Army

Conscription

Levee en Masse
: 650
: 400

Nation-in-Arms
: 1,300
: 500

Selective Service
: 1,800
: 1,200

Commerce Edit

Focuses on raising commerce limit and resource gathering rates.

Name
Cost

Barter

: 60




: 60

Coinage
: 140


: 60

Trade
: 260


: 100

Mercantilism
: 500


: 150




Finance
: 900


: 250

Assembly Line
: 260


: 100

Globalization
: 260


: 100

Focuses on reducing the costs and duration of research for both technologies and upgrades.

Name
Cost

Written Word

Mathematics
: 120
: 80

Chemistry

: 200




: 160

Laws of Nature

: 300




: 300

Electricity

: 500




: 500

Electronics

: 900




: 900

Computerization

: 1,500




: 1,500
Future Technology
Edit
If all previous research has been completed, future technology can be researched.
Ad blocker interference detected!
Wikia is a free-to-use site that makes money from advertising. We have a modified experience for viewers using ad blockers

Wikia is not accessible if you've made further modifications. Remove the custom ad blocker rule(s) and the page will load as expected.