Welcome to the Rise of Nations Wiki!

The wiki about Rise of Nations that anybody may edit.
Database contains:
801 articles since September 2007.
About The Game
Rise of Nations is a real-time strategy (RTS) computer game originally developed by Big Huge Games and published by Microsoft Studios on May 20, 2003. The game was updated and re-released on Steam with the Thrones & Patriots expansion as 'Rise of Nations: Extended Edition' on June 12, 2014.
There are over 200 different units in the game.
There are 18 different nations in the original Rise of Nations. The Thrones and Patriots expansion adds 6 more, therefore bringing the total to up 24.
Each nation has a unique power that provides them with certain tactical and/or economical advantages.
There are 8 different ages in Rise of Nations. Each age unlocks new building and unit types.
The game has 17 unique wonders that each provide special bonuses when built.
Rise of Nations employs the concept of 'territory'.
Citizens don't remain idle after creation, but pursue an open building, repairing or harvesting task.
Infantry units spawn in groups of 3.
| | | | | |
| --- | --- | --- | --- | --- |
| Ages: | Nations: | Units: | Buildings: | Resources: |
Featured Article

From the dawn of man, the sea has been both his greatest friend and his greatest enemy. It provides food in the form of fish, and it provides protection by creating a natural barrier between two landmasses, however, it also consumes lives as the unfortunate individuals fall victim to the ever-hungry clutches of the sea. Long has man dreamt of controlling and using the sea to his advantage, because then one of the two most powerful elements of this world would have become his ally. Today, we still cannot control the sea, but we can make it do some of our bidding, as it carries our ships from shore to shore. The Navy is... (more...)
Featured User

Congratulations to Pajuaneza for being this week's top contributor!
Thank you for all your help and contributions to this wiki.

You can also be featured on the wiki! Learn how
Featured History Article
Slingers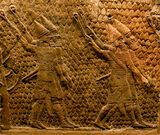 The simplicity in design, portable size and ease of procuring projectiles made the sling one of the most practical and long-lasting weapons in history. Since ancient times, shepherds from all over the world used slings to tend their flocks by launching a stone close to a straying animal, preventing them from going to an undesired direction, and the weapon became associated with the profession. It was also commonly used to hunt small game. The simplicity of the sling also mean that it saw combat quite often. The oldest-known surviving slings, radiocarbon dated to ca. 2500 BCE were recovered from South American archaeological sites on the coast of Peru. Since slings were made of biodegradable materials however, it's difficult to find slings in the archaeological record, and their use goes way back; The first illustration of a slinger is found on the site of Çatalhöyük in Southern Anatolia, dated ca. 7000 BCE. (more...)
Featured Fanon

The United Allies were made to preserve humankind and colonize new planets. These people have colonized the planet Yora and are beginning to... (more...)
Want to help out?
To write a new article, just enter the article title in the box below.
Not sure where to start?
Find out more about the wiki on the About page.
If you are new to wikis, check out the tutorial.
Please assist by contributing to or creating any articles about Rise of Nations.
All contributions big or small will be fully appreciated.
Adding content
Talk and more...
Check out the community portal to see what the community is working on, to ask questions, give feedback, or just say "hey"!
Ad blocker interference detected!
Wikia is a free-to-use site that makes money from advertising. We have a modified experience for viewers using ad blockers

Wikia is not accessible if you've made further modifications. Remove the custom ad blocker rule(s) and the page will load as expected.