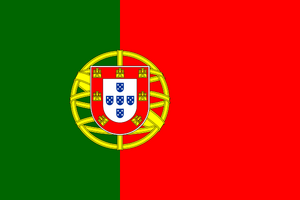 The Portuguese are a special nation available only in some campaign modes of Thrones and Patriots. They are a playable nation in the The New World campaign and a non-playable nation in the Napoleon campaign.
In this campaign they use the Power of Trade bonuses from the Nubians:
The Portuguese' sole appearance in the game as a playable faction sees them in The New World where they start in Central Basin, a territory in South America. The Portuguese campaign is rather difficult to play because South America has far fewer territories compared to the north, and face some of the most powerful factions, most notably the Dutch, the Maya and the Inca.
CtW Objectives
Edit
Outlast or destroy the Aztecs, Maya, Inca, Lakota and Iroquois,
Control the highest amount of territory
Gather 1,000 tribute
Initial start
Edit
Here, the Portuguese instead have the Power of Gold, and are capable of recruiting the Inca unique Mortar unit.
In game mods
Edit
Although not part of Rise of Nations, Portugal is covered by four mods for Rise of Nations: the Rise of Napoleon, and Rise of Kings: Chronicles, as well as the up-and-coming mods Age of Darkness and Rise of the Moderns.
Rise of Napoleon
Edit
The Portuguese like in the New World campaign above retain the Power of Trade.
Rise of Kings
Edit
The Portuguese instead have the Power of Navigation, which is a modified set of national bonuses based on that of the Greeks.
Rise of the Moderns
Edit
For chapters 1-2 of Rise of the Moderns, the Portuguese resemble the Portuguese faction of Rise of Napoleon, but in the last two they instead take on powers similar to the Bantu and are known instead as the Portuguese Empire.
Age of Darkness
Edit
In Age of Darkness, the Portuguese retain the Power of Trade, but are a very weak minor nation bereft of any unique units beyond a few unique naval vessels.
Ad blocker interference detected!
Wikia is a free-to-use site that makes money from advertising. We have a modified experience for viewers using ad blockers

Wikia is not accessible if you've made further modifications. Remove the custom ad blocker rule(s) and the page will load as expected.