Nomad is an official game scenario in Rise of Nations, available in Quick Battle/Skirmish and Multiplayer Games. In this mode, each nation starts with just three Citizens and must build the capital itself, before being able to construct other buildings, gather resources, and conduct research. Nation powers remain inactive until the capital is completed, and some powers are even forfeited (see below).
In Nomad games, capitals are often built in more random locations and nations tend to expand and develop in a more asymmetrical way as well, providing an interesting alternative to the symmetric setup of other game types.
Starting
Edit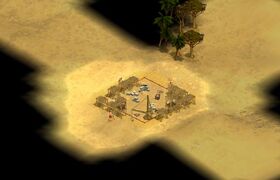 The three 'nomad citizens' start out in random locations, but always on the same continent (land mass). They can easily be group-selected by pressing Shift + . (period) - this selects all idle workers - or by pressing . (period) three times, this selects all workers on the map. One of the Citizens is also assigned to the hotkey group "11", thus can be selected by pressing the F1 key.
Building the capital costs just 10

Food and 10

Timber, but takes longer compared to a regular city: Completion takes roughly 2:00 minutes with one citizen, 1:20 minutes with two citizens, 1:05 minutes with all three citizens (normal game speed).
Effect on nation powers
Edit
In Nomad games, all nation powers remain inactive until the first city is completed. While some nations will just have to wait for their bonuses to activate, other advantages are completely lost:
Strategies
Edit
Ad blocker interference detected!
Wikia is a free-to-use site that makes money from advertising. We have a modified experience for viewers using ad blockers

Wikia is not accessible if you've made further modifications. Remove the custom ad blocker rule(s) and the page will load as expected.