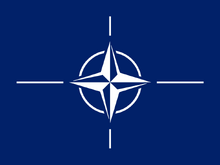 The North Atlantic Treaty Organization, or NATO, is the European-based, real-world organization for the capitalist Western Bloc, featured in The Cold War Campaign.
In Rise of Nations, it is a strategically collective multinational group of "Client States", all controlled and kept by the Americans, and their democratic idealism for world Capitalism. Its Eastern Bloc counterpart, the Warsaw Pact, is a group of socialist countries, fewer in number, but more industrious and economically stable at the beginning of the campaign than NATO's member states.
General Information
Edit
NATO substitutes the British and is one of the many countries that is .xml tribes only. The .xml can be found in the /conquest/ColdWar folder.