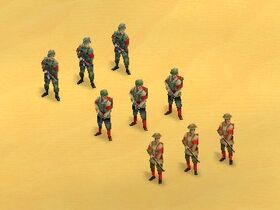 Modern Infantry is a late game class of infantry units. They upgrade from the now-obsolete Gunpowder Infantry in the Industrial Age. Modern Infantry is trained and upgraded at the Barracks, requiring both Food and Timber.
Modern Infantry units are fast-moving, versatile soldiers, effective against most infantry units (except Machine Guns) as well as Artillery Weapons and Support Units. In turn, they can be countered with Armored Vehicles (Ranged Cavalry) and Machine Guns.
Modern Infantry complements the late game Heavy Infantry, which is more effective in fighting the armored vehicles, but very weak against infantry.
Upgrade table
Edit
Ad blocker interference detected!
Wikia is a free-to-use site that makes money from advertising. We have a modified experience for viewers using ad blockers

Wikia is not accessible if you've made further modifications. Remove the custom ad blocker rule(s) and the page will load as expected.