The Leopard Tank is the German unique Tank of the Information Age, replacing the regular Main Battle Tank.
The model of the Leopard Tank is based on the Leopard 2A5 tank.
'There is not enough resources for this Article
This Article is incomplete or is not up to article standard.
You can help improving this article by adding to it.
If you're logged in, you'll be able to earn some achievements, too!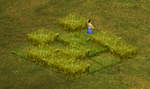 Ad blocker interference detected!
Wikia is a free-to-use site that makes money from advertising. We have a modified experience for viewers using ad blockers

Wikia is not accessible if you've made further modifications. Remove the custom ad blocker rule(s) and the page will load as expected.