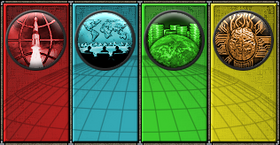 "He who nourishes neither God nor man, he who eats alone, gathers sin."

— Rig-Veda, (m. 10, hymn CXVII)
Global Prosperity is one of four Future Technologies and becomes available at the Library, once all regular technologies have been researched. It requires a vast amount of
Knowledge and

Wealth to research and researching it increases the research cost for all subsequent Future Technology research.
Researching Global Prosperity...
Note, that Global Prosperity is not considered a Commerce Research - a connected Silk rare resource does not reduce it's research cost.
This along artificial intelligence are considered the best future techs for a game that will predictably drag on in a long, protracted war, as they provide almost limitless resources to developed nations (even if hit by 1 or 2 icbm missiles) and the ability to create and reinforce entire armies within seconds.
Like all Future Technologies, it cannot be researched in Conquer the World mode.
Quick reference card
Edit
Global Prosperity

Source:
Cost
Requirements
Leads to
Ad blocker interference detected!
Wikia is a free-to-use site that makes money from advertising. We have a modified experience for viewers using ad blockers

Wikia is not accessible if you've made further modifications. Remove the custom ad blocker rule(s) and the page will load as expected.