Big Huge Games
is a computer game development company founded in February of 2000 and located in Timonium, Maryland. The company was founded by four veteran game industry developers: Tim Train, David Inscore, Jason Coleman and Brian Reynolds (lead designer of Alpha Centauri). Their first game,
Rise of Nations
, was a critical and commercial hit.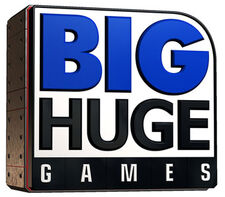 Brian Reynolds, a founding member of Firaxis Games (along with others), left Firaxis to found a new company based on their desire to apply the complexity and concepts of the turn-based strategy genre to the real-time strategy genre.
On January 15, 2008, worldwide video game developer, THQ acquired the developer.
On March 18, 2009, THQ announced that due to declining economic conditions, it would close Big Huge Games unless an outside buyer could be found in the next 60 days. Fortunately, on May 27, 2009, 38 Studios announced that they were acquiring Big Huge Games and retaining 70 employees out of approximately 120 who were at THQ.
38 Studios officially ceased operations on May 24, 2012 when the company laid-off all its remaining employees. Due to issues with the loan from the state of Rhode Island's Economic Development Corporation, the state seized all of 38 Studios' assets, including the rights to Rise of Nations and Rise of Legends. 38 Studios' assets were then auctioned off by Rhode Island in December 2013.  Microsoft Studios acquired the rights to Rise of Nations and Rise of Legends at this auction.
Game titles
Edit
External links
Edit
Ad blocker interference detected!
Wikia is a free-to-use site that makes money from advertising. We have a modified experience for viewers using ad blockers

Wikia is not accessible if you've made further modifications. Remove the custom ad blocker rule(s) and the page will load as expected.