The Ancient Age is the first age available to a player in Rise of Nations. It is the default starting age in the game, hence it has no research or cost requirements.
General Information
Edit
The Ancient Age is the starting point in the game. As such, only the most basic and essential units, buildings, resources and technologies are available.
All standard matches will start in this age, every Nation beginning with at least a Small City, Library, Woodcutter's Camp, three Farms, one Scout, and five Citizens. Only

Food,

Timber and

Wealth (After building a Market) can be gathered, and the only military units of the age are infantry, which can be recruited after building a Barracks. For defenses only the Tower can be built, although at this point in the game it's advisable to either go on the offensive or advance quickly to the next age, when defense becomes more feasible.
Related Nation Powers
Edit
Advancement
Edit
Advancing towards the
Classical Age requires for two of any Library technology to be researched first, and costs 250

Food.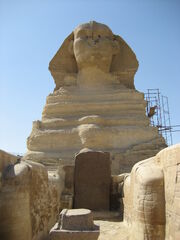 The icon of the Ancient Age is based on the Great Sphinx as it would look when it was built in present-day Giza, Egypt.
As the first age, it is the only one without restriction to being researched.
See Also
Edit
Category:Ancient Age - here are listed all the units, buildings and game mechanics avaliable in this age.